Dedicated Server Hosting - Have your own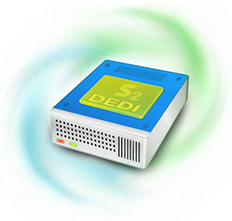 If you have a business that is in an exponential growth and you find that vps or shared hosting plans no longer fit your needs, than our Dedicated Server is your best and only option. We are proud to say that we can provide the best solution for all of your needs, regardless of the size or purpose of your project.
"We, at Servikus, give our best just to give you the ultimate experience of using our Dedicated Servers. Join us,with pleased customers from all over the world, and see what a smooth sail really is..."
For as little as $159 a month you will get state of the art server hardware and software without any resource cut backs or limits.
Servikus will take care of building your custom Dedicated Server by your specifications, install OS, and configure system software that you ordered. And all that within a 24 hours timeframe!
That means that your custom Server will be up and running in no time.
Also we have highly experienced team of system experts maintaining and monitoring your server 24 hours a day, 7 days a week, 365 days a year!!! And one of the best support teams out there, answering via e-mail or ticket system, available for you at all times, with absolutely no additional costs-FREE OF CHARGE!!!
With Dedicated Servers that Servikus provide you will have speed, stability, security, uptime and control that shared hosting plans often fail to provide.